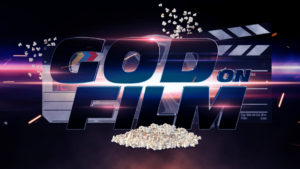 Big Idea of the Series: This 4-week series is ideal for the summer blockbuster season. With so many big-budget movies hitting theaters this time of year, we can't help but discuss each week's latest theatrical release. Why? Because films move our imagination and capture our attention like good art does. The films in this guide were chosen to reflect the series topic and passages. "God on Film" contains a singular theme: What is God like? We all like to think we're the writer and director of our own lives, but we all live under the sovereignty of another power. God is in control of the universe, yet his love and goodness compel him to provide us redemption through Jesus's death, burial, and resurrection.
Week 1 July 7: God is the all-powerful creator of heaven and earth, and yet still desires a personal relationship with us. Movie: The Voyage of Doctor Doolittle
Week 2 July 14: God is sovereign over all peoples, places, and things, and his justice cannot be thwarted. Movie: Godzilla: King of the Monsters
Week 3 July 21: God is good, offering love, provision, and compassion to the downtrodden and oppressed. Movie: The Lion King
Week 4 July 28: As the story of Zacchaeus illustrates, God pursues the lost out of his great love for them.
Movie: Toy Story 4
Dassel is an hour west of Minneapolis on U.S. Highway 12.
We're pleased to have folks from Dassel and several other area communities as a part of our church body.
And we're always pleased to welcome visitors!
The Dassel Church of Christ is made up of people from all walks of life and all generations. We are just like a family – God's Family – young and old – new Christians and veteran saints. You will find people from all kinds of church backgrounds – and no church background! Whoever you are, you'll find a warm welcome here!
The Churches of Christ/Christian Churches like ours began in this country in the early 1800's and remain committed to basing our existence on the Bible as found in the New Testament.
We feel it is imperative that we encourage each other in the faith and share the Good News of Jesus with everyone!
Find out more about us by clicking on the links below:
The Dassel Church of Christ is…
Non-denominational,

committed

to Christianity as

it is expressed in the Bible.

Bible-based, believing the Bible is God's Word and our

final authority and only rule for faith and living.

Committed to God, the Creator of our world, the Sustainer and Lord of our lives.

Committed to Jesus Christ, the one and only living Son of God and our Savior.

Committed to the Holy Spirit.

Committed to a Living Faith.



During the week we offer various times of study and fellowship.

Everyone

is welcome!
When you join our worship services:
You are welcome to come as you are.
We do not have a dress code.
You are welcomed as a guest, so please
Do not feel obligated to give when an offering is collected.
You are welcome to share in Communion, also known as the Lord's Supper. We share in communion each week as was the practice of the church in the New Testament, and we ask only that you have professed your faith in Jesus Christ as your Lord and Savior.
Our building is located at the corner of U.S. Highway 12 and First Street in Dassel.
Our church is found wherever our people are found!
Click on the link below to sign up and receive regular updates via:
texting, email, or phone calls.